Powder rooms are the perfect place to experiment with any new decorating ideas. The small area makes it easy for you to plan your next big & bold styled accent wall.
Take some inspiration from the following projects that talented interior designers have decorated for their clients:
This room below was done by the decorators and interior designers at Lilli Design in Dallas, Texas. They chose to use the Lattice CX1227 pattern from Dimensional Surfaces. The black armoire and cabinet perfectly match with the wallpaper selected. Look at how great that floor and wallpaper combination is!
We don't see many people using flock styled wallpaper anymore, however that doesn't mean you should avoid it. Flocked wallpaper looks phenomenal when done correctly and paired with the right room decor! This room was designed by Angela Strickland in Corvallis, Oregon. She picked the Velvet Flocked Textured CX1303 pattern, also from the Dimensional Surfaces collection. The combination of wall print and the beautiful red flower on the painting makes for a funky yet tasteful design.
This combination below of striped wallpaper, white crown molding, and small tile backsplash looks very well coordinated in this powder room. As many interior designers will tell you, it's all about the lighting. Knowing what kind of lighting and tone you want before you pick your wallpaper is crucial. The dimly lit wall lighting works great with the overall theme. The wallpaper used here is Whisper Black COD0161N.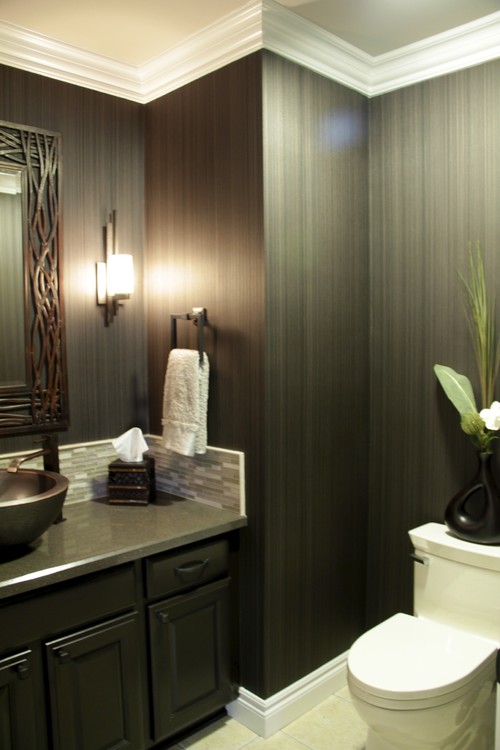 Great Neighborhood Homes, out of Edina, Minnesota, wanted to design a very modern yet elegant room and that is exactly what they accomplished! The chandelier above the sink adds the perfect final touch. The wallpaper you see is called "Diva" Harlequin ND7087, from the Inspired Elegance collection.
We spend a lot more time in the powder room than you might often think – and it is one of the few places in our homes that guests visit. We spend so much time making our bedrooms and offices look great, but how often do we show those off? Remember to match the wallpaper to other elements of the room such as the curtains, lighting, furniture, and flooring. The powder room is a great place to show some of your own personal style – go big!